How I Helped My Kid Through a Homework Crisis
It's so hard to be supportive without taking over. Here's what I did.
Two weeks ago, on Monday evening at 8:30pm, my 11-year-old walked into my room in tears.
"I'm not going to finish my social studies project in time," he wailed. "I don't know what to do."
He'd been working on the project all weekend. It was part of much bigger, very cool year-long project in which the students are creating a new civilization from scratch. They have to design a government, belief systems, laws, currency, and more. For this particular part of the project, they had been tasked with designing a building that would showcase the civilization's approach to architecture. My son had decided that his civilization would boast the tallest skyscraper in the world, and he had taken to Minecraft to design it, block-by-block.
You can imagine where this is going. Even though my son had worked on the assignment for many, many hours, he was four hours to deadline and wasn't even close to being done — because his skyscraper was supposed to be 100 stories tall. (He explained to me that this translated into a height of 300 Minecraft blocks. And there's no cutting and pasting in Minecraft, so he had to add them one-by-one.)
Usually, I don't get very involved in my kids' schoolwork unless they ask for help. Every Monday, I check in with them, asking what they have going on that week to get them thinking about plans and time management. Sometimes in these conversations one of my kids will say something like, "Oh yeah, I have a math test on Thursday — can you help me study for it?" But most of the time, they say that not much is happening or that everything's under control, and I trust them and let them be, because I know that letting them feel in charge gives them independence and self-confidence and because I know that any mistakes they make will be opportunities for learning and growth. I also know from research that meddling too much in kids' schoolwork can make them feel incompetent — something I talk about in my book.
On this particular Monday evening, I knew that my son had been working on his building for a while, but I didn't know much more than that.
As he stood before me in tears, yes, I was thinking oh shit, but I also recognized that this was going to be an important parenting moment. I reminded myself that as an autonomy-supportive parent, I wanted to find a way to help him get through this difficult experience, help him figure out what his options were, and (maybe) help him learn something — but that I ultimately wanted him to decide what to do and how to do it. I definitely didn't want to take over and do the project for him (even though part of me desperately wanted to).
I'm going to share what happened next, not because I think there's one right way to handle situations like this or that I handled it "perfectly," but because I know from your feedback that you like reading about how I handle challenging parenting situations. Of course, how a parent handles a situation like this also depends on their child's age, temperament and past experiences.
I also asked my son for permission before sharing this story.
First things first: I empathized with my son by saying, "Oh wow. This sounds like a really tough situation." I then calmly asked him to tell me more about what was going on. I made a concerted effort to exude curiosity rather than judgment, because he was already upset.
He explained that he'd decided to build a 100-story-tall building for his project, but that he didn't realize it would take so long to build. The project was due at midnight. He had just finished building two of the sides of the building, but the other two sides weren't even close to done.
Then he got upset again and said: "I don't want to get a bad grade!"
I then tried to coax him away from focusing on his grade. I said: "Look, I know you don't want to get a bad grade. But I promise you, it's okay if you do. This will happen sometimes, and it really doesn't matter, and Dad and I won't be angry with you."
He then expressed his concern that a bad grade on this assignment might mean he wouldn't get into college. (Oof. He's in sixth grade, folks.) So I said something like: "You're in sixth grade. It's a long time until college. It's good to try to get good grades, sure, but the most important thing about school is that you learn. You're going to learn from this. And your grade on this assignment isn't going to make a difference. It's not going to affect whether you get into college. Also, it sounds like part of why you're behind is because you really set high expectations for yourself, and you didn't realize how long it would take to design this building, because you've never done something like this before. This is what middle school is all about — it's a chance to try new things and learn from your experiences. Your teacher will understand, and he will not think less of you. He may have to give you a lower grade based on his grading rules, but your grade will not be reflection on you. And again, Dad and I will not be upset if you do get a low grade. You've worked hard on this, and that makes us proud."
He seemed to feel better after this, so then I shifted to helping him come up with a plan for moving forward. I said something like: "Let's think this through and figure out your options here. Could you change the design of the building so that you could finish more quickly?" No, he said: He'd already built two of the building's sides all the way up to the top, so even if he wanted to change his design to just a 50-story building, he'd have to remove a bunch of blocks one-by-one which would take just as much time as finishing the project.
So I said something like: "Okay, well let's think of other options. What do you think you could do?"
He said that he could either turn the assignment in now, half finished, because at least then it would be turned in on time. Or, he said, he could keep working on it and turn it in late. I agreed with his assessment and asked him which he would prefer.
He said he wanted to keep working on it and turn it in late, even if it meant getting points docked for lateness.
I said: "Okay, that sounds like a smart plan. I think your teacher will appreciate that you spent the extra time to finish it. Do you think you should email your teacher and tell him what's going on?" My son said yes, he wanted to send him an email now. He also suggested taking a screenshot of his work-in-progress and sending it with the email, to show that he really had been working on it. I said that was a great idea.
He had trouble attaching the screenshot to his school email — they have strict email attachment policies — so he asked if I would email the screenshot to his teacher. I said sure, I'd be happy to, as soon as he'd sent his initial email. This was another key moment: I knew I did not want to take over, speak on behalf of my son, or ask the teacher for special treatment, because I still wanted my son to be in charge of the situation. So in my email, I simply wrote, "Dear Mr. X: I'm sending this photo to you at my son's request. Thank you!" And off it went.
The next day ended up being a snow day, and my son worked on the assignment for another ten (!) hours. He finished it at 9:30pm. I didn't get to talk to him about it in person, because I had started isolating with Covid that afternoon (never a dull moment!!), but here's a brief text exchange:
So, that was a lot. To summarize my approach to this homework crisis, here's what I did:
I remained calm and non-judgmental and asked him what was going on.

I empathized.

I explained that grades don't matter nearly as much as learning from the situation.

I helped him brainstorm options for moving forward.

I let him remain in charge and communicate with the teacher (and when I had to send the teacher an email, I kept it short and explained I was sending the email at my son's request).
I hope this was helpful. In the comments, I'd love to hear your stories of how you supported your kid through something difficult, if you're willing to share!
And now for this week's ….
I'm commenting on this Instagram post, which has more than 59,000 likes: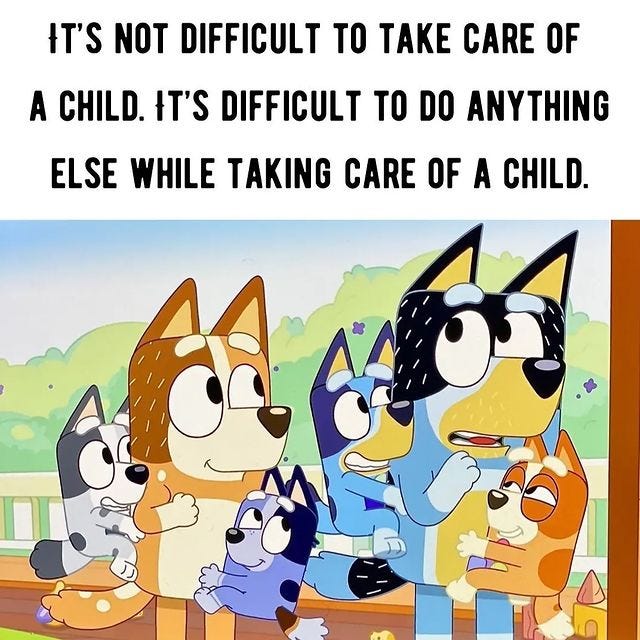 Here are my thoughts.
Keep reading with a 7-day free trial
Subscribe to Is My Kid the Asshole? to keep reading this post and get 7 days of free access to the full post archives.